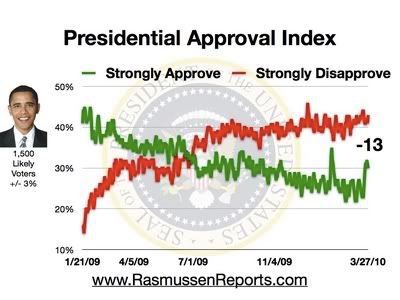 President Obama now stands at -13 in the
Rasmussen Presidential Approval Index.
Of those surveyed, 30% "Strongly Approve" of Obama's performance as President, while 43% "Strongly Disapprove." Earlier this week, just after passage of ObamaCare, Obama's numbers improved to -10. It has been as bad as -21 on several occasions during Obama's Presidency, most recently one week ago, March 20. As people find out more of what is actually in the more than 2,000 pages of the new law, it will be interesting to see which direction it goes.
The Rasmussen Reports daily Presidential Tracking Poll for Saturday shows that 30% of the nation's voters Strongly Approve of the way that Barack Obama is performing his role as President. Forty-three percent (43%) Strongly Disapprove giving Obama a Presidential Approval Index rating of -13. . . MORE