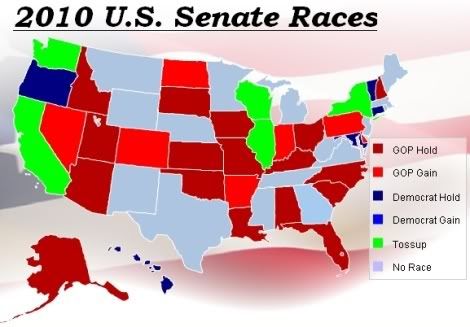 Based on recent 2010 U.S. Senate polling for the Midterm elections, we are moving California from a "Dem Hold," to a "Tossup." Two sets of recent polls show Democrat incumbent Barbara Boxer either one ahead or one behind the two likely GOP challengers - Carly Fiorina and Tom Campbell.
We have also made a change with Pennsylvania. Recent polls show Republican Pat Toomey leading incumbent Democrat Arlen Specter by four points or more. As a result we have moved Pennsylvania from "Tossup" to "GOP Pickup."
The result is that we now project a GOP gain of seven Senate seats, with five states as tossups. The GOP will have to win a net gain of 10 seats to regain control of the U.S. Senate. It won't be easy, but there is a reasonable chance it could happen.
You can see all the polling data
here
, or just click the small map at the top of the right sidebar.