UPDATE 10/24/08, 1:43 pm: The woman pictured below has now admitted the entire story was a pathetic hoax. She made it up.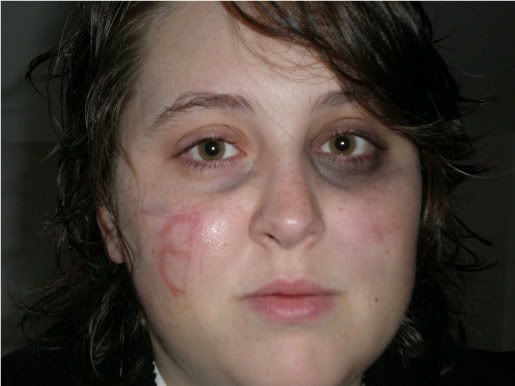 UPDATE: Hot Air.com has the information on the woman who was attacked:

The woman who was attacked has identified herself as Ashley Todd, who is a College Republican field representative.
A John McCain staffer
working in Pennsylvania claims she was mugged last night and "B" carved into her face by the attacker:
Pittsburgh Police are investigating a report by a campaign staffer for John McCain that she was mugged and the letter B was cut into her face following a robbery in Bloomfield last night.

Police say the 20-year-old woman, who is from Texas, reported that the attack occurred after she withdrew money from an ATM at Liberty Avenue and Pearl Street.

She said a man armed with a knife demanded her money. She gave it to him and began walking toward her car, which has McCain stickers.

Although the robber had moved away from her, he became agitated when he saw her car, punched her in the back of the head, pushed her to the ground and carved a B into her face, she reported.

Police said the woman declined medical treatment at the scene.